Snap Judgment Week 6...
Written by Curt Popejoy on 10/11/2009
Rather than divide these snap judgements, I am downsizing and giving them all to you (minus the Florida/LSU game) in one neat package. You can thank me later.
First let's talk about Oklahoma/Baylor - I have no misconceptions that Oklahoma is still a National Championship contender. I didn't think so at the start of the year either. But when you figure in the laundry list of injuries this team has suffered on offense, working toward a Big 12 title needs to be a huge goal. That still gets a BCS Bowl, and would be a huge victory for the season. So seeing the return of Sam Bradford has to be a positive sign, right? I suppose so. Bradford looked rusty to start the game, and he lined up several times with two running backs, DeMarco Murray and Mossis Madu lined up as wide outs, to fill in for injuries. But as much as I think Landry "Farva" Jones is the future, Bradford once he settled in, throws a much more catchable ball and you can just see he has better command of the offense. But I still question some of the decisions of the OU coaching staff. I realize their hand is forced to a degree, but they have two great backs and there's really no reason one should have to run the ball two plays in a row, much less 3.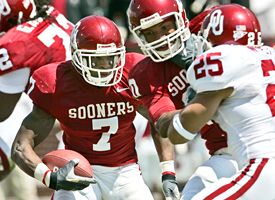 Oh, but jot this name down. Dejuan Miller. The sophomore wide out is really staring to come into his own, and at 6'5" makes a huge target for Bradford. This team easily has enough defense to shut down Texas next week, and I am hopeful that the offense can come out with some new wrinkles and do what they do (run that ball!) to set up the pass.
Ok, now onto Auburn getting whacked mafia style by Arkansas. I've seen every Arkansas game this year, and you can see that offense maturing and clicking every week. I'll say it right now, Ryan Mallett is the best quarterback in the nation. He's only a Sophomore and another year or two in Petrino's offensive system is going to really help him, but this kid has the best set of tools for the NFL of any quarterback I've seen this year. Once he refines his footwork, which is always a challenge with a big quarterback, his accuracy will improve and he'll be even better. I doubt Auburn planned to go into Arkansas and get torched like they did, but away from home, their defense just isn't the same. Arkansas travels to Florida next week, and no I won't call for the upset, but I am very anxious to see how Mallett does against the best defense in the country.
I got to watch Michigan and Iowa early this morning (or late last night depending on how you define it), and I have to tip my hat to the Iowa coaching staff. They made a concerted effort to keep Tate Forcier from beating them, and it worked. They limited his opportunities and when they had the ball, they used a pass heavy attack to keep the Michigan defense on their heels. Big hats off to the Iowa offensive line, especially their tackles, who gave Ricky Stanzi time to make some great deep throws. I don't feel like Iowa is getting the respect they deserve, but keep the faith Hawkeye fans, keep winning and as the undefeated teams fall around you, you will keep climbing. Oh and when you travel to Columbus November 14th, beat the Buckeyes down, and then no one will be able to deny you your spot near the top.
Sunday Morning one-liners
Kansas has an amazing passing offense, but I'm not sure if their defense can stop anyone.
Oregon keeps winning, so I wonder if the school will make the horrible decision to allow LeGarrette Blount back?
Jevan Snead needs to find a sport psychologist to get his mojo back.
If Texas plays next week, like they did this week against Colorado they are going to lose to Oklahoma.
Alabama kicker Leigh Tiffin earned his scholarship this weekend with 5 field goals.
Ndamukong Suh is the best defensive player in the country and it's not even close.
Last Edited: 10/11/2009