Best of the Bunch-Running Backs
Written by Curt Popejoy on 06/13/2012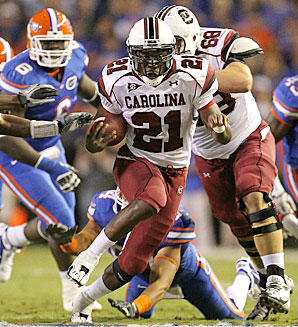 The role of the running back in college football has changed so much. With the not so new spread offense, teams are throwing the football more, and when they do run, it's less and less often out of a traditional run set. So when I look at who has the best group of running backs in the league, how they run the football has to figure into the equation.
4. Oregon-If the Ducks played in a more traditional run offense, they'd be ranked higher on talent alone. You would not think a team that lost a back as dynamic as LaMichael James would still be top 4. But when you are able to re-load with a Senior like Kenjon Barner and Sophomore De'Anthony Thomas you don't miss a beat. The offensive system they fit in are absolutely perfect for their speed and athleticism and both guys are going to rack up rushing stats in huge chunks again this season.
3. South Carolina-The Gamecocks are very much an old school type of team. They play great defense and they line up and run it right at you. My kind of football. And the leader of this old school run attack is Heisman hopeful Marcus Lattimore. He's a pounder in the mold of former Baltimore Raven Jamal Lewis. And the best part is, we saw that Sophomore Brandon Wilds and Senior Kenny Miles can answer the bell and run the offense so it will keep Lattimore healthy and fresh for the brutal SEC schedule.
2. Wisconsin-The Badgers are another old shool line it up and run you over type of offense. And Montee Ball was built to play that role. Perfect one cut and go runner who refuses to be denied. And when it comes to the end zone, he's practically automatic. The only downside is, that his backup James White is going to be limited in his carries, because he's nearly as talent as Ball. If they aren't the best one-two punch in college football at the running back position, they are very close. It'll be interesting to see if getting White on the field will hurt Ball's stats or just keep him fresh to plow in more touchdowns.
1. Arkansas-If a one two punch like South Carolina is good, than the One-Two-Three punch of the Razorbacks is even better. When Junior Knile Davis went down with an injury, the question of who would pick up the slack was quickly answered by Seniors Dennis Johnson and Ronnie Wingo who rushed for over 1,100 yards in a platoon system along with 6 touchdowns. The return of Davis means that until he's 100% the rushing offense will be in excellent hands, and once he is, it'll be as explosive and dynamic as ever. The downside is, when you have the best quarterback in the SEC under center you know the ball is going to get thrown around, so don't be shocked if the stats don't match up with the talent in this backfield. But even at that, the talent this team has makes them the Best of the Bunch!
Last Edited: 06/13/2012