1. Taylor Lewan, Michigan Grade-1st Round
2. Luke Joeckel, Texas A&M Grade-1st Round
3. Jake Matthews, Texas A&M Grade-1st Round
4. D.J. Fluker, Alabama Grade-2nd Round

5. Eric Fisher, Central Michigan-2nd Round

1. Tyler Eifert, Notre Dame Grade-1st Round
2. Zach Ertz, Stanford Grade-3rd Round

3. Jordan Reed, Florida Grade-3rd Round
4. Dion Sims, Michigan State Grade-3rd Round
5. Chris Gragg, Arkansas Grade-4th Round
1. Barrett Jones, Alabama Grade-1st Round
2. Khaled Homes, USC Grade-2nd Round
3. Tyler Larsen, Utah State Grade-2nd Round
4. Mario Benavides, Louisville Grade-3rd Round
1. Chance Warmack, Alabama Grade-1st Round
2. Jonathan Cooper, North Carolina Grade-1st Round
3. Larry Warford, Kentucky Grade-3rd Round
4. Gabe Jackson, Mississippi State Grade 3rd Round
5. Alvin Bailey, Arkansas Grade-3rd Round
Lots of big changes in my newest 2013 NFL Mock Draft. Virginia Tech quarterback Logan Thomas has disappointed, so I have ruled him out at this point as an early entry and he's off the board. I have taken all my running backs out of the first round, not because I think a player like South Carolina's Marcus Lattimore isn't talented, just no in demand compared to the other talent in the draft.
Please keep in mind, this is my list of who I like. This has nothing to do with predicting where they will be drafted. If I were an NFL GM, if all positions were on the board, this would be my top 32 guys. You couldn't really go wrong with any of these guys, but don't be shocked that my order doesn't fall in line with what most believe.

Obviously I reserve the right to make changes to this as the season goes on, and it is of course a fluid list.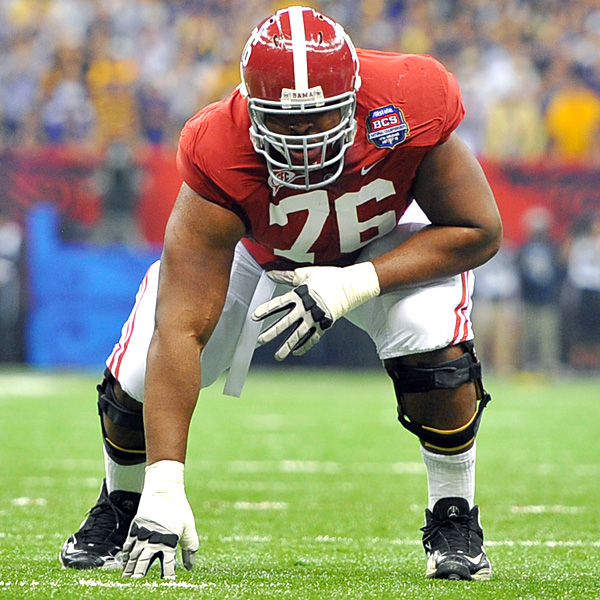 These are my preseason scouting reports. They are meant to just lay a foundation for where these players are going into the 2012 College Football season. Obviously when I do final scouting reports on these players after the season, things will change. No guarantees they will change for the better, and I do my best to be objective and pragmatic. You all may take that as being negative, but if I like a guy I say so, and if I don't, you'll hear that too.

DJ Fluker, Offensive Tackle, Alabama
Height-6'6"
Weight-335lbs
Positives

I started putting this list together as I am prepping for the upcoming college football season. I've broken the list into 2 groups, non-conference and conference matchups. Some of these games will have BCS significance and others will be more of traditional importance, but they all look to me to be great games and well worth your time whether you are a fan of the teams or not.

Top 5 non-conference games

5. BYU at Utah September 15th-This matchup has been a tradition for many years, but since the conference changes in 2010 we've been counting down to the beginning of the end of the Holy War. This game is less about 2 great teams fighting for BCS position but marks what may be the end of a great football tradition.

4. Auburn Vs. Clemson(in Atlan

The role of a linebacker, especially in a college defense is pretty varied depending on the system. In some, they are pass rush specialists, in others they are hybrid defensive backs, but no matter what you call them, the middle 3(or in some cases 4) of the defense are vital for not only run stopping, but in pass defense. It's where nearly every team's top tacklers come from, and in order to be great there must be playmakers. This year's units all contain talented playmakers in all facets of the game. And the 4 units I have picked were fairly easy selections and they stand well ahead of the rest of the country.