1. Barrett Jones, Alabama Grade-1st Round
2. Khaled Homes, USC Grade-2nd Round
3. Tyler Larsen, Utah State Grade-2nd Round
4. Mario Benavides, Louisville Grade-3rd Round
1. Chance Warmack, Alabama Grade-1st Round
2. Jonathan Cooper, North Carolina Grade-1st Round
3. Larry Warford, Kentucky Grade-3rd Round
4. Gabe Jackson, Mississippi State Grade 3rd Round
5. Alvin Bailey, Arkansas Grade-3rd Round
Lots of big changes in my newest 2013 NFL Mock Draft. Virginia Tech quarterback Logan Thomas has disappointed, so I have ruled him out at this point as an early entry and he's off the board. I have taken all my running backs out of the first round, not because I think a player like South Carolina's Marcus Lattimore isn't talented, just no in demand compared to the other talent in the draft.
Please keep in mind, this is my list of who I like. This has nothing to do with predicting where they will be drafted. If I were an NFL GM, if all positions were on the board, this would be my top 32 guys. You couldn't really go wrong with any of these guys, but don't be shocked that my order doesn't fall in line with what most believe.

Obviously I reserve the right to make changes to this as the season goes on, and it is of course a fluid list.
These are my preseason scouting reports. They are meant to just lay a foundation for where these players are going into the 2012 College Football season. Obviously when I do final scouting reports on these players after the season, things will change. No guarantees they will change for the better, and I do my best to be objective and pragmatic. You all may take that as being negative, but if I like a guy I say so, and if I don't, you'll hear that too.


Tyler Wilson, QB Arkansas
Height-6'3"
Weight-221lbs


Positives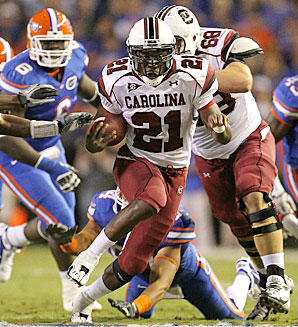 The role of the running back in college football has changed so much. With the not so new spread offense, teams are throwing the football more, and when they do run, it's less and less often out of a traditional run set. So when I look at who has the best group of running backs in the league, how they run the football has to figure into the equation.
Quarterbacks-This list isn't about best NFL draft prospect. And it's not based solely on who the best starter is. In college football, the backup quarterback is one play away from being on the field and a team with depth is crucial. The 4 teams I listed below have dynamic playmakers, pro prospects, and in some cases carry their teams on their backs.
I've been getting some great emails from readers about the new site and just some excellent questions and comments. So every Sunday morning I am going to reach in the Mail Sack and answer a few.
Why didn't the Chiefs draft a quarterback in the first round?
Matt C in Overland Park,KS
Preseason Top 25
1. Alabama-Even with their losses, they are still so talented on both sides of the football.
2. USC-Probably a national title contender last year if not for their sanctions. Should be in the thick of it all year long.
3. LSU-Another team that took significant losses in terms of personnel but looks ready to reload.
4. Oklahoma-There are questions on both sides of the football, but you can't deny the passing attack promises to be explosive.
5. Oregon-This ranking could change greatly if the Ducks struggle to find someone to step in for Darron Thomas at quarterback.
I tell myself every year that I am not going to do this. And every year I do it anyway. I've voiced my opinion about the "value" of the Heisman Trophy many times so I will save the keystrokes. But in my old age what I have come to understand is that it has its place in college football, just as bowl games do.